Eat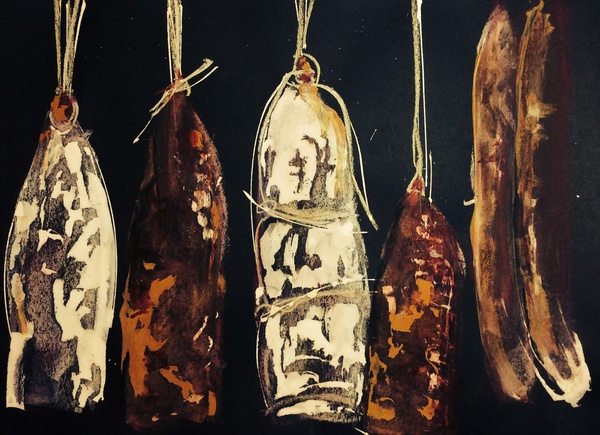 Having always enjoyed eating a variety of salami and dried meats (charcuterie) when abroad we were determined to have a go at making them - just for us to eat!
We were lucky enough to be part of Hampshire Fare's Preserve the Hampshire Hog project, aimed at helping pig farmers make more profit from their pigs. The timing was perfect as we were on the point of getting rid our pigs as we simply couldn't make them pay. The Prince's Countryside Fund were able to provide sufficient funds to run a course for about 18 months with Marc Frederic Berry as the tutor. During this time along with a number of other Hampshire Fare members were learnt all about charcuterie and the more positive we became to make and sell salami. So after much research, many many practice runs, purchase of basic equipment we got going. Initially we didn't sell any but had each batch tested for a range of microbacteria, we wanted to ensure whatever we were making not only tasted good but was safe to eat too.
The salami proved very popular so the move to develop air dried meats began. We always wanted to create a British take on continental charcuterie, not just replicate Coppa, Bresaola etc. So we have deliberately developed recipes using local products where possible to add for seasoning.
We especially enjoy working with other small local producers, either by using their products as seasoning or to compliment our products such as local wines or by selling at local events. We are firm believers that where possible local is best.
Our salami and air dried products are made from meat we produce on the farm and apart from the actual slaughter process we handle it all ourselves, this allows us to have complete control to ensure the welfare of the animals, quality of product and personal service to our customers, we try to meet individual customer needs, however small.
Salami
We offer 3 sizes; snacking, medium and large.
Fennel and garlic - pork with a gentle touch of fennel and subtle undertones of garlic
Red Wine and Garlic - a pork salami with more traditional taste, likened to saussison
Upham Stakes Beer and Thyme - a very British taste using a Hampshire beer & thyme and pork. Great Taste 2015 Award Winner!
Watercress & Gin - 

watercress sourced from Alresford and Twisted Nose Gin from Winchester

Parsonage Pink - our latest recipe with a link pink peppercorn to enhance the pork flavour
Merguez - Lamb and Beef salami with the heat of chilli and layers of flavour from fennel and cumin
Coriander - the nutty favour of coriander works brilliantly with pork
Chorizo - not too hot, pork with some chilli and a smoky paprika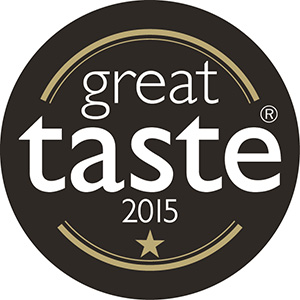 Both our "Hampshire Air Dried Pork with Twisted Nose Gin"
and "Beer and Thyme salami" won Great Taste awards this year!
Air Dried Meat
(not sold sliced, please contact for availability)
Hampshire Air Dried Beef
with mustard and coriander seed, a hearty flavour.
with smokey paprika and red wine really adds to the beef
with Twisted Nose Wasabi Vodka & sun dried tomato, Bloody Mary Beef!
Parson Aged Ham
Sharp crisp flavour of lemon and fennel
Anna Valley chill spice makes a rich dried pork
Hampshire Air Dried Pork